Driving Through the Years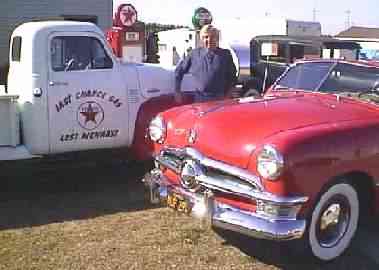 Wednesday, September 23, 1998, Chippewa Falls, Wisconsin - Someone tell Paul Oman that we are only 457 days away from the twenty-first century, because he seems to thinks that it is still 1930.
Oman is living the life that any teenage, American male spends at least part of history class dreaming about. He owns thirty-five vintage automobiles, each at least forty years old.
"I guess I enjoy owning and working on cars that were around in the time of my youth," Oman says, which explains why this sixty-one year old Chippewa Falls native loves cars - especially Ford cars - from the thirties and forties. "In the thirties, they really started to put a lot of effort into making cars that were attractive," he says.
The first car Oman ever fell in love with - that is, that he actually hoped to own - was a 1940 Ford, which he "test drove" one day. Oman knew the local car lot very well, and he knew where they kept the keys for the cars - on the inside wall of the outhouse - and he would sneak in, and "borrow" a car occasionally.
Oman would then pick up his friend, Jean, a Western Union telegram delivery boy, and they would deliver telegrams. Oman would return the car and they'd have the rest of the afternoon to play, and "no one would be the wiser," he says. Oman considered this practice (now refered to as "grand theft, auto") as "test driving" the cars, and one day his little test drive snagged him.
The day he saw the 1940 Ford Cabriolet on the lot, he was so enchanted by it, he forgot all about his friend. He took the car around town for a good, long drive, while Jean sat, waiting. The car would be a bargain at the $270 asking price, but by the time he got back and tried to buy it, the owner had decided not to sell.
In 1952, a few months before his sixteenth birthday, Oman found another love. This one, a 1933 Chrysler, was owned by a local physician who was ready to part with it for a mere $125. Oman's father took him to the doctor's house to make the deal. First they sat and listened to the doctor explain, in great detail, some skin grafting equipment he had invented and patented.
When the painful lesson was over, they started in on the deal. Oman tells the story; "My father said; 'My son has been a pretty good kid. All he has right now is $75. Can he put a down payment on the car and pay you as he earns the money?'" And the doctor said; 'You know, good kids are hard to find. Let's give him the car for $75.'"
Oman took the deal faster than a '49 Cadillac, and in no time, he not only had a beautiful car, but he had a beautiful car at a beautiful price, with only one (technical) hitch.
His freewheeling days would have to wait for a few months, as Paul Oman still did not have a driver's license. He could not get one until he turned sixteen and so he could not (legally) drive until then. He crossed the days off on his calendar until that beautiful day.
It was raining on that beautiful day. Oman drove to the police station and, as he tells the story; "I said to Sheriff Paquette; 'I've come to take my driver's exam.' The sheriff said; 'Well, it's about time,' because he'd seen me driving around town for months."
Oman passed the test easily and since then has driven - and has owned - hundreds of cars. He has owned a few gas stations (Clark, Standard and Conoco) and for most of his career has owned several used car lots in the Chippewa Falls area - with no outhouses. He is retired, now, with his three sons running the car lots and his wife Jo keeping the books. He spends his days around cars, turning the backyard of their home - a former silo dealership - into a respectable automobile and Americana museum.
Oman's main showcase is in a new, forty-by-sixty foot garage. "When I designed the garage, I didn't know how I would ever fill it," he says. "Now I'm thinking of expanding." Inside are a half dozen classic cars in excellent shape, a 1953 Chevrolet truck, a "couple of Harleys," jukeboxes, automobile signs, displays, parts and more parts.

Oman carries the nostalgic theme to the outside of the garage, with several gas pumps topped with beautiful, authentic and reproduction glass globes, a real, twenty-five foot tall Texaco sign ("I never had a Texaco station") and a red, 1937 Ford dump truck, which he uses to haul gravel.
Paul and Jo Oman enjoy driving the beautiful, antique cars, actually immersing themselves in the period. "Sometimes we're in the thirties or the forties," Oman says. "We're seldom in the nineties." Jo is organizing a poker run for the local antique car club next weekend, and the Omans enjoy taking an extended trip with friends, such as the exursion he is planning along Route 66 next year. "We will dress in vintage clothing and won't even use paper plates or eat at new, fast-food restaurants," he says. "It will take a lot of planning, but we'll travel just as they did in the thirties."
But Oman gets his greatest kick out of restoring cars, and he has complete facilities for body and engine repair on his property. "It's exciting to buy a car that has been stored for decades or neglected," Oman says. "There's a certain satisfaction to restoring them." This satisfaction is helping to keep him young. "You can't stop aging," he says. "But you can slow it down a little bit with a hobby like this."
Oman is not a wealthy, eccentric collector, but a careful negotiator who waits for good deals on cars in need of repair. He spends a lot of time at auctions and has developed a grapevine of contacts. He is accumulating these collectible automobiles in the hopes that they will provide a retirement fund for him and his wife. "They appreciate," he says. "It's my pension plan."
I ask him if he has ever come across a "spoils of divorce" car, the classis story of a woman selling her soon to be ex-husband's mint-condition Cadillac for pennies on the dollar. No luck there, he tells me, but he does get involved in some divorce cases - though they are not his pleasure.
Because of his expertise in vintage automobiles, lawyers have asked him to appraise cars involved in divorces. "You can't win," he says. "Say you have a '57 Mustang. All along, the husband has been telling the wife it's worth fifteen thousand. Then the divorce comes along and, now he has to split the money, so he says it's only worth five grand. I might appraise it at eight thousand and both parties are unhappy. I don't like divorces."
You would have thought that telling his wife that they were going to live in an abandoned grain silo would have led to divorce, but it would take more than that to split up this happy couple. "We were only going to be here for a few months," Oman says. "That was five years ago." Their house is actually made up of two connected silos, which, as demonstration units for the manufacturer, are a single story tall. "They're windproof," Oman says, "and very well insulated."
But Jo Oman doesn't seem to mind being treated like a bushel of grain. "It's been fun," she says. "it's been very comfortable." The home does seem spacious enough, with ceilings that rise toward a center peak, like a yurt. Just don't try sitting in a corner.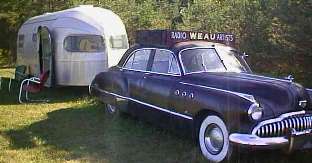 Oman loves the stories that share the memories that surround the vehicles he collects. One of his favorite stories is about Maggie and Scotty and their home on the road.
Their home was a twenty foot aluminum trailer, built in 1949 in California and used by the husband and wife country music duo of Maggie and Scotty and their band as they traveled the midwest, performing at county fairs and carnivals from the mid forties through the early eighties. Oman found it at an auction a few years ago, filled with memorabilia of the band, with a faded sign painted on its side; "The Dude Cowboys."
Oman uncovers an old reel-to-reel tape player in the garage and fumbles with a reel of recording tape, threading it through the relic machine. He plugs the player in, shifts the heavy control to "play" and the reels turn.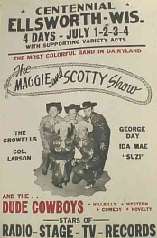 Wonderful, old, country music, reminiscent of Patsy Cline and Hank Williams, creaks from the speaker. This is classic.
The barn is now alive. I have just noticed the many neon signs glowing and the jukebox blinking and spinning a record. There is a couple sitting in the red Ford ragtop, making their first moves, cars are cruising past, a group is square dancing by the door and Maggie, Scotty and The Dude Cowboys have the stage. It's a delightful medley of a dream I'm having right there in the Oman garage, revving up the reel-to-reel and driving through the years.